Error message
Deprecated function: Array and string offset access syntax with curly braces is deprecated in include_once() (line 20 of /mnt/web124/a2/08/5768008/htdocs/Original/includes/file.phar.inc).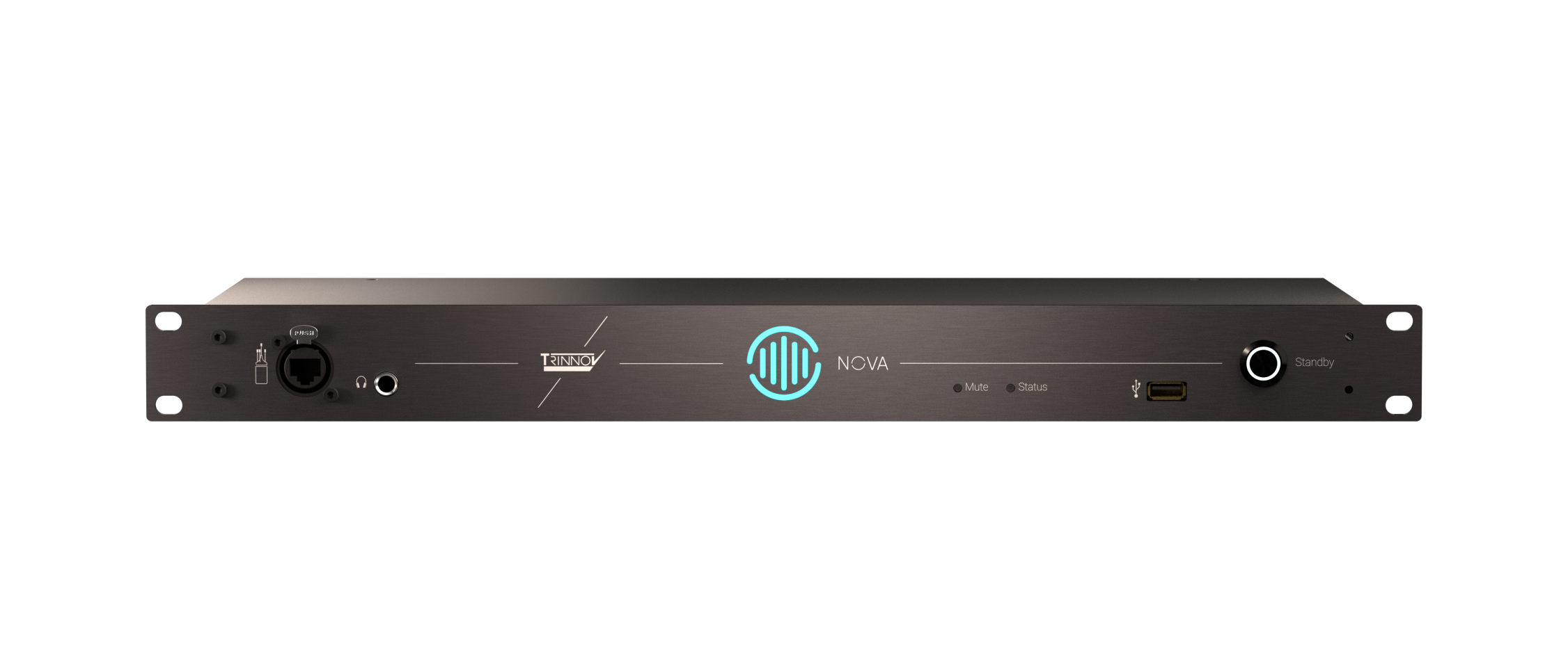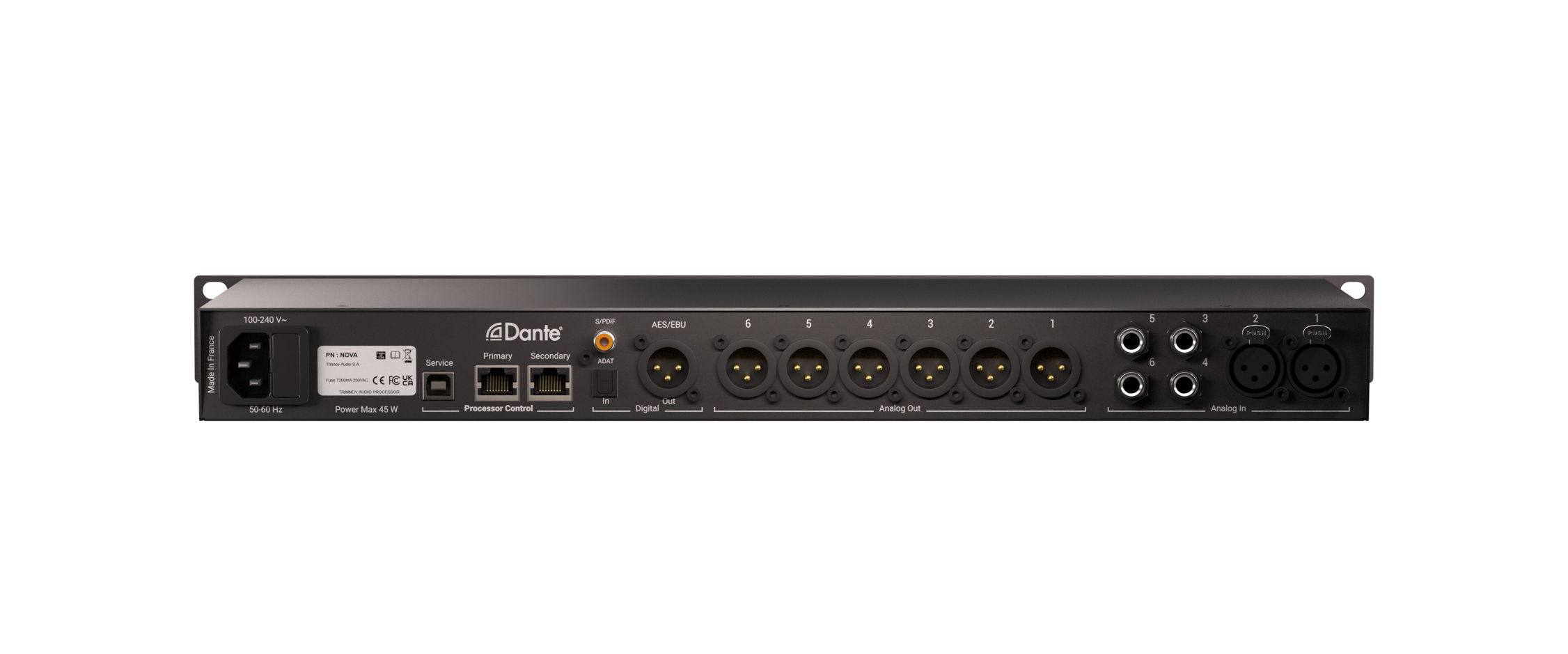 ---
Project Info
NOVA
NOVA is set to be the new must-have in the music industry. Compact, powerful and flexible, it will fit in your studio or in your backpack and prove to be the most essential piece of equipment in your studio.
Our Optimizer technology is arguably the most efficient supercharger for your mixes. With its softer price tag, NOVA makes this essential technology more accessible to music makers.
Yet, NOVA is not just an Optimizer, it is the backbone of your entire monitoring system.
Work better an faster with Trinnov's Optimizer
From renowned sound engineers to loudspeaker manufacturers, Loudspeaker/Room Optimization is being fast adopted by the music industry. This area of acoustic research has been our main focus and expertise since 2005. We are recognized as the undisputed leader in this field.
NOVA gives you access to our cutting-ege Trinnov Optimizer technology. Chage the way you work and never look back. Stop second-guessing and start focusing on music.
Upgrade from 2 to 6 channels
NOVA is very modular, allowing you to upgrade from 2 to 6 channels through a simple software update.
Whether you add a subwoofer, a second pair of monitors or upgrade to 5.1, all you need to do is purchase additional licenses from your local Trinnov dealer and unlock your NOVA in just a few clicks.
comprehensive Monitor Controller
Packed in a shallow 1U chassis, NOVA is deceptively powerful and covers all your monitoring needs from stereo to 5.1
NOVA handles analog and digital signals like no other monitor controller. Connect, align and seamlessly switch between sources and multiple sets of monitors, regardless of their format or connection.
Avid EUCON compliant and fully compatible with La Remote, NOVA allows advanced monitoring control and can easily be integrated to your production tools. It can be set up either as a full monitoring controller or as an embedded audio insert processing toolbox in the loudspeaker path.
Dante and AoIP
As a Dante device, connect NOVA easily within your audio network with low latency (down to 250 microseconds).
You can also use NOVA as your main audio interface along with the Dante Virtual Soundcard for direct DAW-to-monitoring integration.
New Hardware platform
NOVA is the first of a new generation of Trinnov products, based on an entirely redesigned platform, which combines greater modularity, higher performance, enhanced reliability and native support for Audio over IP.
Front panel

Microphone Input: 1x Calibration Microphone Ethercon Input

Headphone Output: 1x Jack 6.35 stereo Headphone Output

La Remote connectivity: 1x USB Type A port for La Remote

Standby / Mute button: Yes

Status: LED Status

Audio & processing

ADC Resolution / Sampling Rate: 24 Bits/192 kHz
DAC Resolution / Sampling Rate: 24 Bits/192 kHz
A/D Dynamic Range (AES17): 115 dB (A-Weighted, ref. +18dBu)
D/A Dynamic Range (AES17): 115 dB (A-Weighted, ref. +18dBu)
D/A THD+N ratio: > 110dB, 1kHz@0dBFS (20kHz BW)
Processing Sampling Rate: Native up to 192kHz (no SRC)
Processing Resolution: 64 bits floating point
Processing channels:2 Optimizer licenses included (upgradable)

Digital Audio Connectivity

ADAT/SPDIF Input: 1x ADAT or SPDIF optical input
SPDIF Input: 1x SPDIF coaxial input
Ethernet port: 2x Ethernet ports (Dante 8 in/8 out)
XLR Output: 1x AES3 XLR stereo output

Analogue Audio Connectivity

Balanced Input: 4x Jack 6.35 Balanced Inputs
Balanced Input: 2x XLR Balanced Inputs
Balanced Output: 6x XLR Balanced Outputs

Network

Network connectivity: IPV4 dual connector (configurable)
IP Configuration modes: DHCP / Auto-IP link local / fixed IP
Compatibility: Eucon compatibility via the "Trinnov App"

Weight & dimensions

Dimensions (L x L x P) mm: 482 x 44 x 192
Dimensions (L x L x P) inches: 19" x 1.7" x 7.3"
Shipping box dimensions (W x H x D) cm: 59 x 9 x 31
Weight: 2.5 kg / 5.5 lbs
Shipping weight / volume: 4 kg / 0.02 m3
Rack Mounting: 1U - Fixed Rack Ears

Warranty

Standard Warranty: 2 years
Transferable: Yes
Power supply
Power requirement: 100V-240V AC 50Hz/60Hz
Power consumption: 15W
Mains fuse: T315mA slow blow
Transformer: Integrated (no external transformer, standard IEC socket)
Operation mode: Fanless design for silent operation
Options
Processing channels upgrade: 2-channel software bundle (up to 6 total)
3D Measurement Microphone: Ethercon connector
USB Hardware Remote Controller: La Remote
"Mein Regieraum und meine Lautsprecher klingen beide fantastisch.
... aber diese Box ist mit der Abhörgenauigkeit sehr anspruchsvoll. Sie wusste genau, dass ein Lautsprecher einen Zentimeter weiter von meinen Ohren entfernt war und passte das an, zusammen mit vielen, vielen anderen winzigen, aber sich summierenden Problemen."
"Die Abmischungen, die ich mit dem ST2-Pro mache, klingen anderswo besser, zum Beispiel in meinem Auto. Vergleichbar mit dem Blick mit dem Hubble-Telekop in das akustische All. Für mich geht es nicht mehr ohne dem."
Greg Wells: (Adele, Taylor Swift, Ariana Grande, Aerosmith, Quincy Jones, Elton John)
---